URSUIT Softdura black
please select size and equipment
Salesprice with discount
1458,91 €
We ship to
Algeria, Armenia, Azerbaijan, Canada, Egypt, Israel, Jordan, Kazakhstan, Korea, Republic of, Liberia, Libya, Morocco, Palestinian Territory, occupied, St. Pierre and Miquelon, Syrian Arab Republic, Tunisia, United States,
With shipment worldwide until 5kg (Zone3) for 38,99 €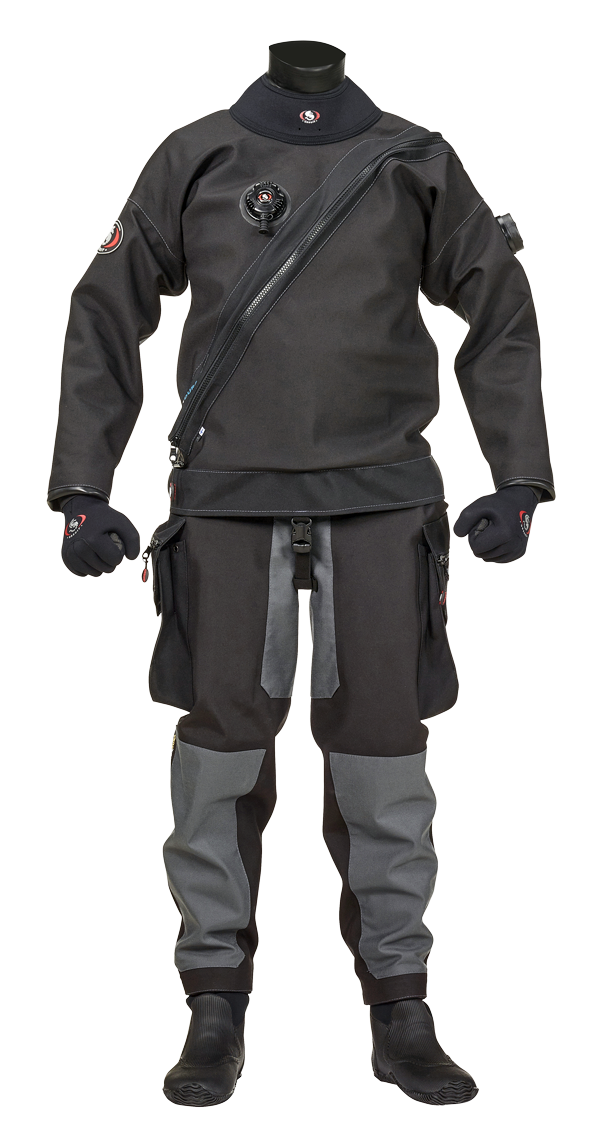 ATTENTION: The right of revocation does not exist with this product, as it is clearly tailored to the personal needs of the consumer.
Ursuit Softdura is made of highly durable three-layer material, which is still flexible and comfortable to wear. The ergonomy of the suit is top of the line, which makes it perfect for longer dives. Front zipper allows the user to don the suit without assistance. The cover flap on the dry zipper protects the zipper from sand and dirt, as well as prevents the jacket from rubbing against the zipper teeth. The suit has integrated suspenders, which together with the crotch strap enable a telescopic waist structure. The waist and the material properties make the suit feel like a regular garment, and adapt to user's movements smoothly. The revised cut of the sleeves and shoulders enable excellent mobility. The crotch seam is renewed to prevent wear-and-tear and to provide even better abrasion resistance. Stitched seams make the suit construction possible without external taping. Wear-and-tear of the suit is even further enhanced by the robust Cordura reinforcements on the knees, crotch, bottom and elbows. Roomy and easy accessible Tech-pockets on thighs, with integrated D-ring and bungee loops. A small pocket on the flap with zipper closure.
There are yet no reviews for this product.
Subcategories
Your cart has been updated
Terms & Conditions
Contact
Dive Bandits
Falko Höltzer
Peter-Köferler-Str. 20
90584 Allersberg
Germany
Phone
Questions...? Please call us!
+49 9176 995105
Mon - Fri 17:00 - 19:00