THOR Set Rev. 2.0 Basic+ canister T14
please select features and cable length
We ship to
Algeria, Armenia, Azerbaijan, Canada, Egypt, Israel, Jordan, Kazakhstan, Korea, Republic of, Liberia, Libya, Morocco, Palestinian Territory, occupied, St. Pierre and Miquelon, Syrian Arab Republic, Tunisia, United States,
With shipment worldwide until 5kg (Zone3) for 38,99 €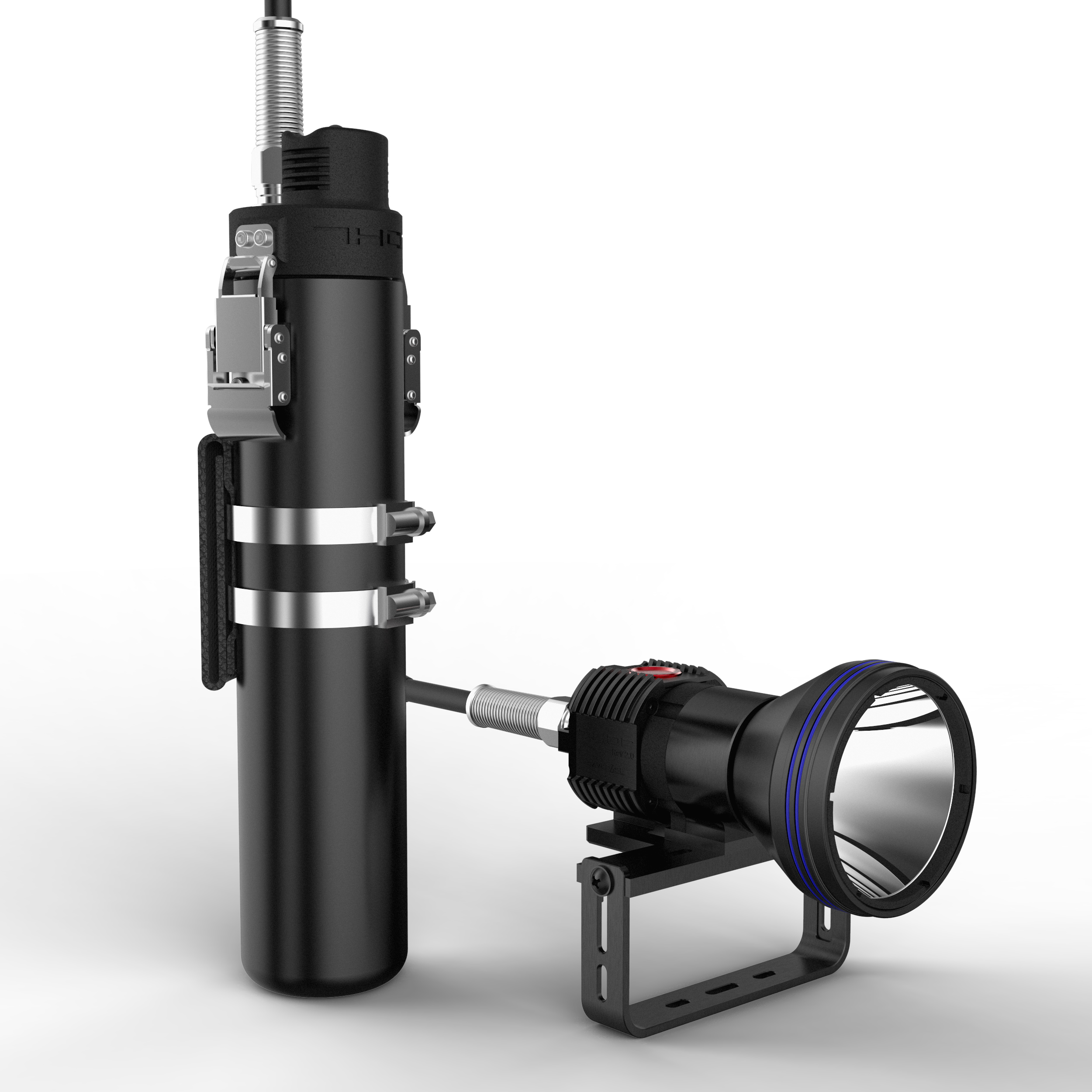 The unbeatable THOR sets, measured on the features you get for the price, represent the cheapest way to get your THOR head and a THOR canister.
Security throughout the system through the use of T/C Cords. The optimal matching of light and canister shall ensure that in this variant the burn time with maximum power of THOR is app. 3.2 h.
The set consists of the THOR lighthead and the T-14 canister
The THOR primary lighthead is in our opinion the reference on the international diving lighting market in the premium segment so far. Tested by the wetnotes in issue 22. Test result:
"The Thor is a primary light which sets benchmarks and standards. In every aspect. In terms of performance data, quality of workmanship, design and features is it by far the best, what the market has to offer. "
With it's feature it sets standards, indeed. No wonder that this primary lamp has been used within a very short time and is one of the leading lights.
Highlights are not only the perfect and compact design, but rather groundbreaking things like, for example, the acrylic glass tube, which is extremely resistant, the fully encapsulated combustion chamber of the electronics through O-rings and much more.
The Thor is a brand made in Germany. Developed by engineers and cave divers under the motto: "No compromises". Built on the most modern milling machines and 3D industrial printers from a special aluminium alloy, which is used in the aviation and aerospace industries.
The main characteristics are as follows:
lightweight: only approx. 580 grams ,
downdrift only 280 gr under water
compact: length approx. 12.5 cm,
diameter of the reflector: 8cm
LED SST-90 maximum 2200 lumens
max. approx. 70,000 lux 1m in the spot
focusable with aluminium reflector, 1 reflector as standard, reflector is replaceable by user
dimmable with piezo button in 4 levels (25%, 50%, 75%, 100%). Through this feature perfect adaption to the Team and the conditions.
extremly bright small spot, surrounded by a light corona for the perfect illumination of the environment.
Goodmanhandle aluminium, adjustable position
preparation for Suex scooters bracket , optional
T/C cord, compatible with canisters of all leading manufacturers
power input battery: 7V - 14V DC
materials: aluminium black anodized / POM black / nylon black (other colors optional on request)
manual
Thor canisters, made in Germany, are a technical and Visual highlight . The body is machine cut from the full POM. The lid is made of impact resistant polyamide.
The tanks are extremely compact and are among the most compact canister on the market. Also the content once again represents the best of the best: only cells are used by Panasonic. They are protected by a high-quality electronics against overvoltage, undervoltage and short circuit. The electronics ensures the balancing of the Li-ion cells.
A charger 230V, which provides a charging voltage of 12V 2 amp is provided. This ensures a gentle loading as a prerequisite for a long life time of the battery.
The tanks are equipped with high-quality cable glands. The certification is granted after UN 38.3. Allowed to be taken on a plane by IATA Rules. You are of course equipped with the high-quality T/C cords.
Note the cable length:
cable length 79 cm - perfect for women and smaller divers
cable length 94 cm - perfect for body sizes from approx. 1.80 m
the main characteristics of the canisters are as follows:
Canister of POM cylinder shape, 13.8 Ah, 11.1V, 153 Watt(h)
diameter 6 cm - weight: approximately 1400 grams
overall length without cable 30 cm - summer lid of polyamide with a switch and a single T / C cord outlet
cable length selectable
T/C cable cord with individual length on request possible
The lid and the canister are waterproof units for itself and receives through the joining together a double protection against water ingress
hull material from POM full material, rounded bottom, perfect for easy storage of the long hose
lid removable, fastening by Nielsen Latches
high quality cable gland as standard equipment from the factory
toggle switch ("ON-OFF") with protection casing and rubber knob, encapsulated protected in the cover design, precise and safe to use
intuitive feeling of the switch state due to the geometry of the protective sheath
Rubberknob and cable user changeable / Assembly tool available as an option
premium cells from Panasonic 3.4 Ah per cell Li-ion
balancing circuit / low voltage protection/short-circuit protection
integrated connection cover / battery using banana plugs
incl. belt loop, belt loop attachment in the default
flight mode without power connection
UN 38.3 test passed
colours: black and blue- many other colors optional on request
Wednesday, 27 December 2017
Sehr schöne Tauchlampe + Akkupack. Passend zum DIR-Style tauchen. Corona der Lampe last sich sehr einfach einstellen. Das Akkupäck hält in Kombination mit dem Thor Lampenkopf 4 Std. Das Set wurde innerhalb einer Woche geliefert. Bin sehr zufrieden und kann die Thor Tauchlampe nur weiter emfpehlen!
Thomas Rupprecht
Your cart has been updated
Terms & Conditions
Contact
Dive Bandits
Falko Höltzer
Peter-Köferler-Str. 20
90584 Allersberg
Germany
Phone
Questions...? Please call us!
+49 9176 995105
Mon - Fri 17:00 - 19:00