THOR Rev. 2.0 Premium-Light
please select your option
We ship to
Algeria, Armenia, Azerbaijan, Canada, Egypt, Israel, Jordan, Kazakhstan, Korea, Republic of, Liberia, Libya, Morocco, Palestinian Territory, occupied, St. Pierre and Miquelon, Syrian Arab Republic, Tunisia, United States,
With shipment worldwide until 5kg (Zone3) for 38,99 €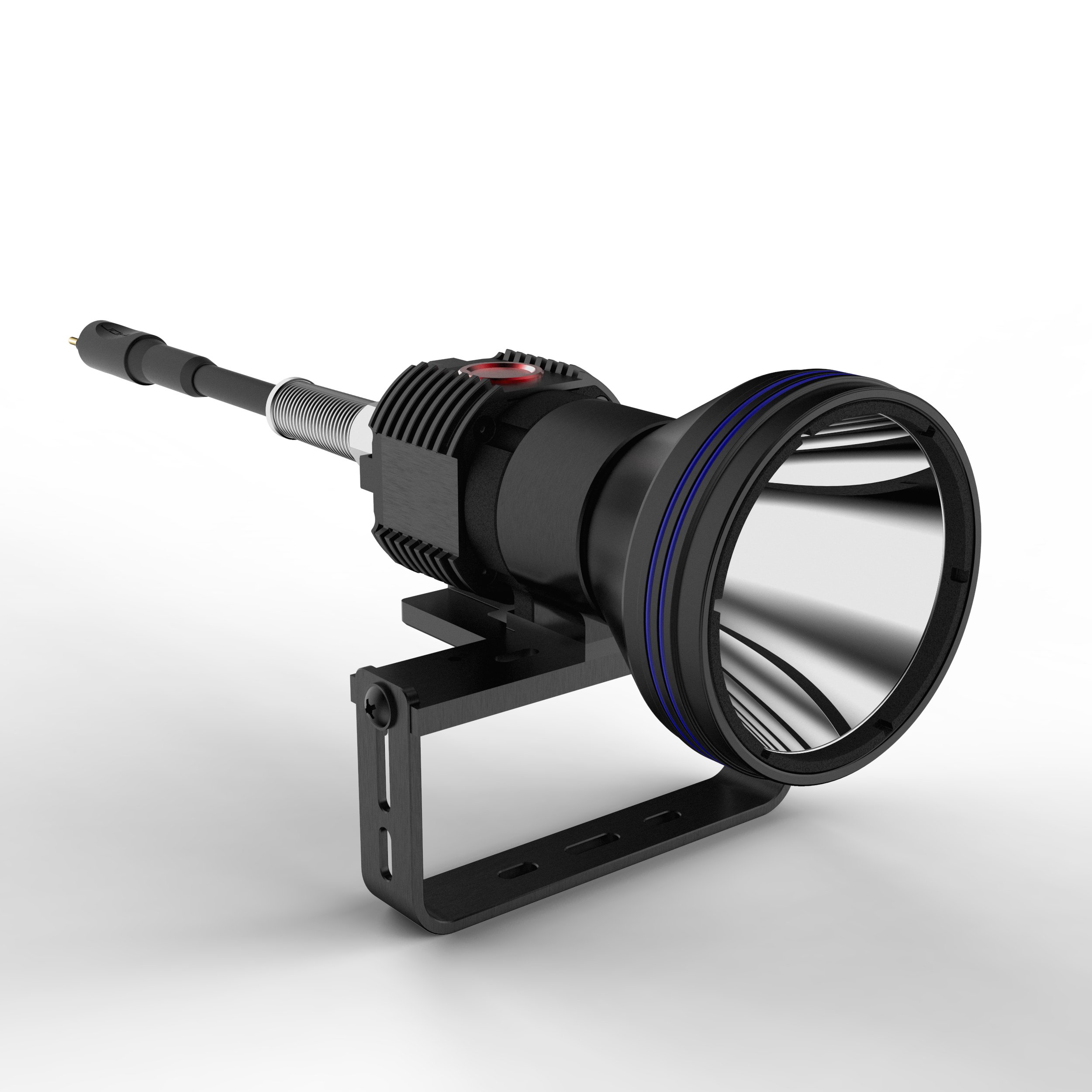 We would like to give you a close look at the inner core of our primary light: the lighthead itself with it's high efficient power plant inside. We call it the "Lichtkraftwerk". It is fully replaceable under water, which many other LED Lights can't do so. The tube is also specially made for this light. It is a special kind of Borosilicate Glas designed by Schott Duran. It is ultra clear, highly resistant against changes in temperature and highly resistant against impacts. The electric is being isolated from the LED. So no water can flood into it, if the tube breaks anyhow. The power plant is fully programmable. It is designed to work constant with LED's up to 100 Watts. So it's easy for it to work on a LED with only 30 Watts in it's maximum. It's extremly power-saving. as you can read in the essential facts. You can use all E/O Cord equipped batterypacks and canisters available at the market from the main technical diving companies together with our primary light. The most important thing is: It is ultra bright and extremely powersaving. At it's lowest level the power consumption is only 8 Watts. But it shines even brighter than a 21W HID Halcyon light. At full power you have the brightest light at your side that is available at the market. So everything is at your choice.
The main features are as follows:
Lightweight : only 580 gr
Small: length 12,5 cm. Diameter of reflector housing: 8 cm, Reflector changeable by customer
High Power LED SST-90 with 2.200 lumen, powered by electronic with efficiency factor of 98 %
max. ca. 70.000 Lux 1m im Spot
Focusable,
Power consumption and app. max. brightness at 12 V, measured in 1 m distance from LED Tube: 100 % 2,89 A 70.000 lux 25 % 0,73 A 23.800 lux 50% 1,50 A 43.700 lux Low 0,51 A 17.300 lux
Dimmable with piezo switch (25%, 50%, 75%, 100%)
Changeable light source (optional Exchangesystem)
Changeable position on goodman handle
Thumb loop with cookie holder (optional Scooterset)
Multilevel heat management by thermoconductive liquid inside and cooling channels outside
T/C Cord connection
Power input: 7V – 24 V
Optional: Scooterset with Thumbloop and SUEX-Scooteradapter, Exchangesystem for Lighthead UW, Blacktransportcase, name engraved on the head (customization)
There are yet no reviews for this product.
Your cart has been updated
Terms & Conditions
Contact
Dive Bandits
Falko Höltzer
Peter-Köferler-Str. 20
90584 Allersberg
Germany
Phone
Questions...? Please call us!
+49 9176 995105
Mon - Fri 17:00 - 19:00