Automatic Diluent Valve (ADV)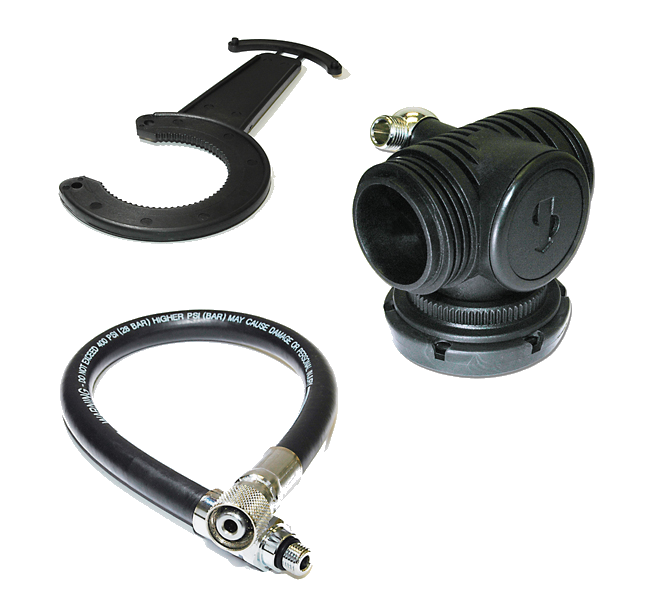 We ship to
Algeria, Armenia, Azerbaijan, Canada, Egypt, Israel, Jordan, Kazakhstan, Korea, Republic of, Liberia, Libya, Morocco, Palestinian Territory, occupied, St. Pierre and Miquelon, Syrian Arab Republic, Tunisia, United States,
With shipment worldwide until 5kg (Zone3) for 38,99 €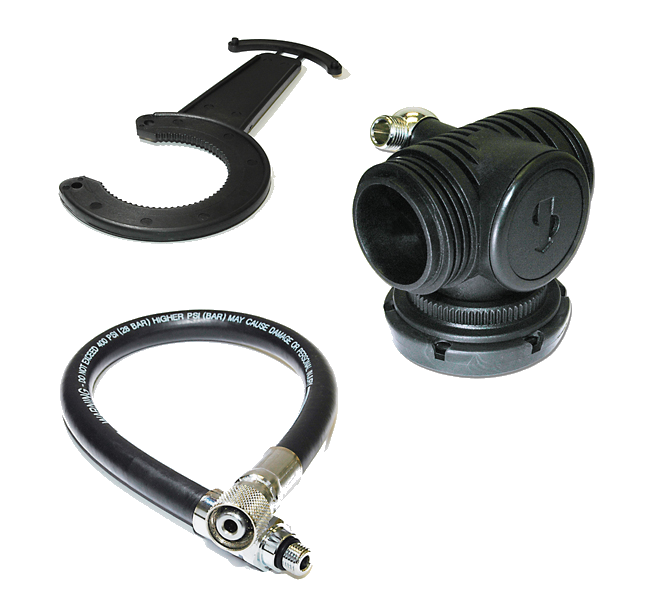 Fitted in place of the inhale T-piece - the ADV supplies gas to the breathing circuit whenever a substantial negative pressure is experienced within the inhale counterlung or when manually operated by pressing the diaphragm cover.
The gas supply hose connects with a 3/8" UNF thread to the low pressure port (7 to 11 bar) of a first stage or into the diluent port of the INSPIRATION or EVOLUTION manifold. At the other end it connects to the ADV's 300 degree swivel with a standard 9/16" UNF female regulator connector.
The ADV valve is an upstream tilt valve that requires no adjustment or free-flow cut-off device.
The 300 degree swivel gives you the option of feeding the hose from the front e.g. from a suitable side-mounted diluent cylinder. The ADV is not a pressure relief valve like a normal downstream 2nd stage. It is an upstream design which prevents free-flow into the breathing circuit in the event of a leaking 1st stage seat.
The ADV comes with a C Spanner and an ADV Hose (15" Can be shortened, if required).
There are yet no reviews for this product.
Your cart has been updated
Terms & Conditions
Contact
Dive Bandits
Falko Höltzer
Peter-Köferler-Str. 20
90584 Allersberg
Germany
Phone
Questions...? Please call us!
+49 9176 995105
Tue and Thu 17:00 - 19:00