Back Mounted Counterlungs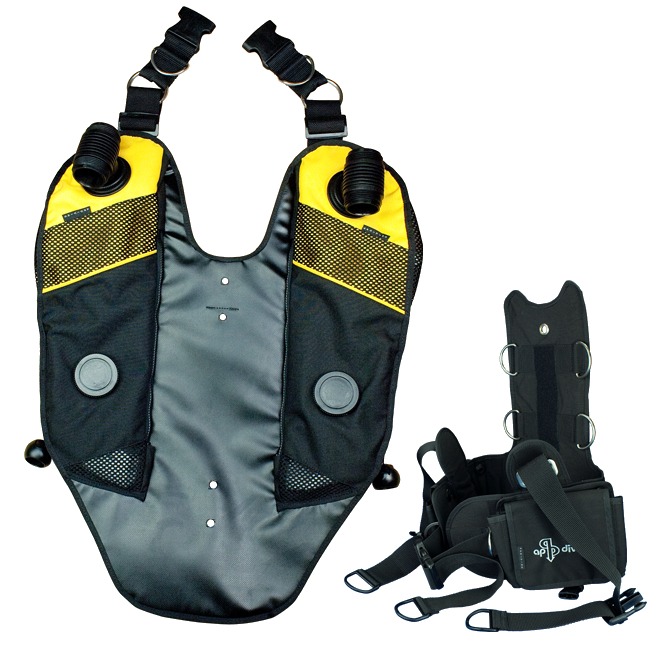 please select color and size
We ship to
Algeria, Armenia, Azerbaijan, Canada, Egypt, Israel, Jordan, Kazakhstan, Korea, Republic of, Liberia, Libya, Morocco, Palestinian Territory, occupied, St. Pierre and Miquelon, Syrian Arab Republic, Tunisia, United States,
With shipment worldwide until 5kg (Zone3) for 38,99 €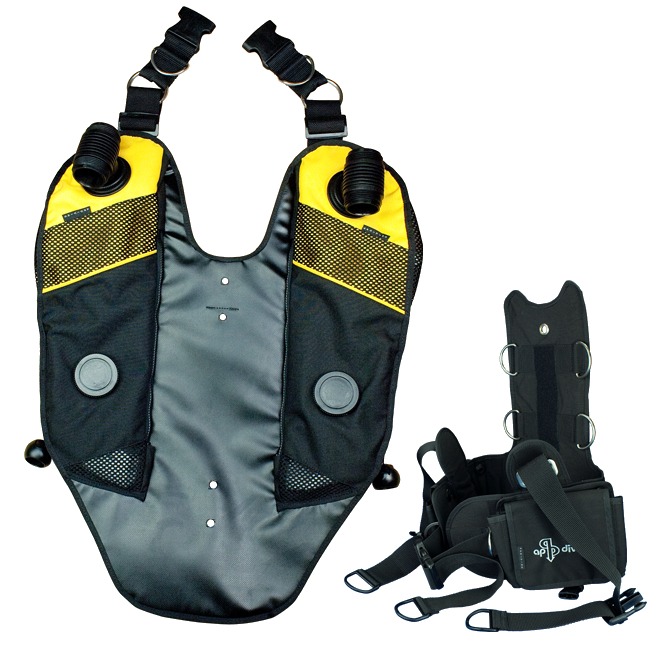 The new APDiving Back Mounted counterlungs (BMCL) have been developed for the inspiration, the evolution and the evolution+, as an alternative to the current counter lungs.

Why Back Mounted mounted counter lungs?

• extremely open chest
• Stream-lined dive profile with reduced water resistance
• More space for mounting additional components (stages)
• Simple horizontal trim
• Unique harness design the counter lung fixed in the optimum position
• Excellent breathing characteristics in all positions typical diving
• CE approved
The BMCL consists of 5 main components:

• counter-lung - 1 size available in Grey / Black or Yellow / Black (Please choose color below)
• Harness - 4 sizes (medium, L, XL, XXL) (Please select size below)
• optional diluent inflator hose (see Diluentinflator page )
• optional Oxygen inflator hose (see Oxygeninflator page )
• optional Auto Diluent Valve - ADV
The Oxygeninflator is optional, depending on the level of training or configuration settings.
The ADV is also optional, but we strongly recommend that BMCL with ADV equip.

Important: You should ensure that at least one Diluentinflator or ADV or preferably both are mounted on the counter lungs!

The upgrade bundle includes:

• Compared with regular T-picees and blanking plates (please select color below)
• Harness with integrated weight pockets, stainless steel D-rings, crotch and comfort pad. (please select size below)
NOTE: BMCL comes with blank panels and regular T-piceesas standard. When an ADV is required (factory fitted), please also order the ADV as separate item and specify in the message.

NOTE: Oxygen and Diluent Inflator hoses and can be purchased separately.
There are yet no reviews for this product.
Your cart has been updated
Terms & Conditions
Contact
Dive Bandits
Falko Höltzer
Peter-Köferler-Str. 20
90584 Allersberg
Germany
Phone
Questions...? Please call us!
+49 9176 995105
Tue and Thu 17:00 - 19:00