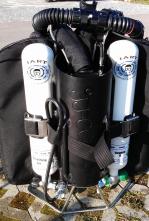 JJ-CCR Rebreather has been designed and tested since 2006 with more than 2000 operating hours under water in different locations around the world. 2009 we have been at Qinetiq in England for testing the rebreather toward the EN14143 standard.


Since mid of 2011 the JJ-CCR Rebreather has an official "CE" certification. The tests were performed in accordance with EN 14143:2003 (for the diving depths of 40 m and 100 m as specified in the standard). The self-contained re-breathing diving apparatus of series "JJ-CCR Rebreather" satisfy the provisions of the harmonized European Standard EN 14143:2003 and thus the provisions of Directive 89/686/EEC.


The JJ-CCR Rebreather has been developed by K.I.S.S. Philosophy - "Keep It Simple, Stupid" with the aim to reduce the potential for human error during an activity. It is a simple, robust and adaptable unit that can be configured to adapt to every conceivable need and diving. Starting with the sport diving to deep technical Trimnix-Dive.


The JJ-CCR Rebreather comes, for better convenience, with the option to add an additional dilution gas valve and a Shearwater Predator as a controller and full trimix computer. The latest software version is downloadable and user-upgradeable.


Chris Ullmann (IART HQ) say:
There is a new fish in the pond


We teaching the JJ-CCR for guidelines of IART and the manufacturers. For trainig is a separate device available. The training lasts 4-5 days and includes a minimum of 6 dives with at least 300 minutes training in the water.

Please note:
Only by JJ-CCR ApS officially approved instructor may conduct training on the JJ-CCR rebreather. Click For additional questions regarding training and the purchase of a JJ-CCR rebreather here or in our shop.


WETNOTES magazin contains JJ-CCR article (only in german):