We offer training according to VDST / CMAS, IART and IANTD. Learn to dive with Dive Bandits means:
individual mentoring and supervision
small groups theory and pool training
beginner training as well as advanced levels,
up to rebreather training for different units such as JJ-CCR and AP Inspiration, Evolution & Evolution+ as well as Hollis Explorer eSCR.
We have a shop for CCR units from various manufacturers, rebreathers and rebreather equipment and spare parts. We are the rebreather Store in Germany for sales of JJ-CCR rebreathers and spare parts.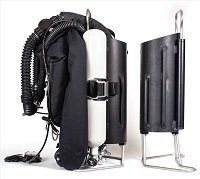 UPDATE:
Available only in NON-EU countries. :-(
JJ-CCR develop a new canister, the XRC X-tended Range Canister.
The X-tended Range Canister will provide the experienced diver with a total runtime off nearly 6 hours.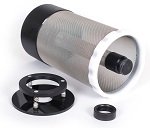 The canister is extended in length by 50mm and the stand is shortened with 50 mm so
the overall length of the unit stays the same!
This morning (August 1, 2014) we were informed that the JJ-CCR has successfully passed the CE, and is therefore available on the European market again.
To this end, the quotation of the manufacturer:
EN14143:2013 - The odyssey is over!
It was a long journey, but today it is our pleasure to announce the successful CE for the JJ-CCR rebreather DiveCAN. We are very proud to be one of the first, or maybe the very first rebreather manufacturer with a CE according the new EN14143:2013 standard! The CE demonstrates our commitment to the European market and that we take the local rules and regulations serious.
1. Scope
1.1. The following terms and conditions (Terms) apply to all goods and services of the company "Dive Bandits", which are connected with the company.
1.2. Different conditions of clients and / or order issuers that have not been specifically authorized by the company "Dive Bandits" recognized and confirmed in writing, shall not apply and are binding on us. This also applies if the conditions were not the client or the client explicitly rejected.
1.3. The terms and conditions of the company "Dive Bandits" includes, without the express agreement for all future transactions with our customers, clients and student divers. With the TNC, a framework agreement for future business is closed.
1.4. Orders in the online shop of "Dive Bandits" we lead by the time the order from the applicable terms and conditions. The GTC in their current form are available on our website at www.divebandits.de terms / available. Moreover, we will send you our terms and conditions with the order confirmation. When in doubt, refer to our Terms and Conditions published on the Internet. Changes and additions, we expressly reserve.
2. Conclusion / rescission
2.1. The agreement takes effect when the company "Dive Bandits" your order via internet take our order confirmation. The order confirmation we send by e-mail. If you have given us your order no e-mail address, we will send you a confirmation by mail.
2.2. We reserve the right to carry out even after the conclusion of a credit check and withdraw from the contract with a negative result.
3. Withdrawal
3.1. A client may revoke his contractual declaration within two weeks without giving reasons in writing (eg letter, fax, e-mail) or - if his goods were delivered before the deadline - by returning the goods. The time limit begins after receipt of this notice in written form, but not before receipt of the consignee. (§ 355 BGB)
3.2. In the case of an effective withdrawal, the mutually received benefits and any of us derived (eg interest) surrendered. You can not return the received performance in whole or in part, to us, you must pay us compensation for the value.
3.3. You may return the goods without giving reasons within 2 weeks of returning the goods. The period begins with receipt of the goods and this instruction. Only if not shipped by parcel (eg bulky goods) you can return by the return request in written form, eg explain by letter, or e-mail. The revocation period is sufficient to send the goods or the payment. In any case, the return will be at our expense and risk. The return or return requests must be sent to: Dive Bandits Falko Höltzer, Neumarkter Strasse 16, 90584 Allersberg
3.4. The right does not apply to the appointment of such goods that are produced according to customer specifications or clearly tailored to personal needs of the customer (special order).
4. Prices / Payment
4.1. When we accept payments either by bank transfer in advance or by cash on delivery

. With Pay Pal account or credit card via Paypal.
4.2. Offsetting and retention are excluded, unless your counterclaim is undisputed or legally binding.
4.3. Our calculations are, unless otherwise agreed, payable by within 5 days in advance. The statutory rules governing the consequences of late payment.
4.4. Our prices include the VAT. It is at the statutory rate on the date of the invoice shall be indicated separately in the invoice.
5. Delivery, shipping costs
5.1. Delivery is by DHL.
5.2. We are entitled to partial deliveries, if any portion of the ordered product is temporarily out of stock. Additional shipping charges in this case we take.
5.3. Within Germany we will generally deliver within 3 working days after receipt of order. On any different delivery times we refer to the respective product page.
5.4. If your order contains goods as a result of high demand not have in stock, we will inform you immediately of a delay caused thereby.
6. Retention of title
6.1. All delivered goods until full payment of the company "Dive Bandits".
7. Claims for defects (warranty)
7.1. The warranty period is 2 years and starts with the delivery of the goods. During this period, all defects, the statutory warranties shall be levied for free.
7.2. Should the delivered goods are defective, you may require in accordance with legal requirements at your option remedy the defect or delivery of defective goods. Should the supplementary performance fails, you can reduce the purchase price or withdraw from a considerable lack of agreement.
7.3. We are not liable for damages not caused by the goods themselves and not for other financial losses. This limitation does not apply:
7.3.1. for willful misconduct or gross negligence by us or our agents,
7.3.2. for personal injury,
7.3.3. for damage caused by the absence of a property which we have guaranteed,
7.3.4. for claims under the Product Liability Act.
8. Privacy Policy
8.1. You consent to the storage, processing and use of our personal data transmitted by your order for the purpose of executing your order.
8.2. All on the website of the company Dive Bandits personal information is solely for your individual support, sending product information or the submission of service offers. The company's "Dive Bandits" to ensure that your information will be kept confidential in accordance with data protection laws.
9. Supplementary
9.1. The law of the Federal Republic of Germany, the UN Convention on the International Sale of Goods is excluded. To return this requirement pursuant to Battery Recycling In connection with the sale of batteries, rechargeable batteries or with the delivery of appliances, batteries or accumulators, we are obliged to draw your attention to the battery regulation to the following: Batteries must not be disposed of with household waste. You are to return used batteries as required by law to end users. You can return batteries for use in the store or in its immediate vicinity (eg, in the municipal collection sites) free of charge. You can also return batteries to us by post. Batteries and accumulators containing hazardous materials are marked with the symbol of a crossed out wheeled bin, as the logo below..

The trash can means no batteries in the trash can.
The characters in the trash cans are for:
Pb battery contains lead
Cd: battery contains cadmium
Hg: Battery contains mercury
Shipping costs:
Shipping on you order currently varies dependant upon your location and the weight of the product.
Shipping within Germany:
| | |
| --- | --- |
| until 2kg | 6,29 € |
| until 5kg | 7,79 € |
| until 10kg | 9,99 € |
| until 31,5kg | 16,99 € |
Shipping to other EU countries:
| | | | | |
| --- | --- | --- | --- | --- |
| | until 5kg | until 10kg | until 20kg | until 31,5kg |
| Austria, Belgium, Bulgaria, Croatia, Cyprus, Czech Republic, Denmark, Estonia, Finland, France, Greece, Hungary, Ireland, Italy, Lithuania, Luxembourg, Malta, Monaco, Netherlands, Poland, Portugal, Romania, Slovakia, Slovenia, Spain, Sweden, United Kingdom | 18,99 € | 25,99 € | 36,99 € | 48,99 € |
Shipping to Europe non-EU countries:
| | | | | |
| --- | --- | --- | --- | --- |
| | until 5kg | until 10kg | until 20kg | until 31,5kg |
| Albania, Andorra, Belarus, Bosnia and Herzegowina, Canary Islands, Cyprus, Faroe Islands, Georgia, Gibraltar, Greenland, Liechtenstein, Macedonia, Moldova, Norway, Russian Federation, San Marino, Switzerland , Turkey, Ukraine, Vatican City State (Holy See) | 30,99 € | 36,99 € | 50,99 € | 66,99 € |
Shipping worldwide (Zone 3):
| | | | | |
| --- | --- | --- | --- | --- |
| | bis 5kg | bis 10kg | bis 20kg | bis 31,5kg |
| Algeria, Armenia, Azerbaijan, Canada, Egypt, Israel, Jordan, Kazakhstan, Republic of Korea, Liberia, Libya, Morocco, Palestinian Territory, St. Pierre and Miquelon, Syrian Arab Republic, Tunisia, United States | 38,99 € | 53,99 € | 80,99 € | 116,99 € |
Shipping worldwide (Zone 4):
| | | | | |
| --- | --- | --- | --- | --- |
| | bis 5kg | bis 10kg | bis 20kg | bis 31,5kg |
| Afghanistan, American Samoa, Angola, Anguilla, Antarctica, Antigua and Barbuda, Argentina, Aruba, Australia, Bahamas, Bahrain, Bangladesh, Barbados, Belize, Benin, Bermuda, Bhutan, Bolivia, Botswana, Bouvet Island, Brazil, British Indian Ocean Territory, Brunei Darussalam, Burkina Faso, Burundi, Cambodia, Cameroon, Cape Verde, Cayman Islands, Central African Republic, Chad, Chile, China, Christmas Island, Cocos (Keeling) Islands, Colombia, Comoros, Congo, Cook Islands, Costa Rica, Cote D'Ivoire, Cuba, Djibouti, Dominica, Dominican Republic, East Timor, East Timor, Ecuador, El Salvador, Equatorial Guinea, Eritrea, Ethiopia, Falkland Islands (Malvinas), Fiji, French Guiana, French Polynesia, French Southern Territories, Gabon, Gambia, Ghana, Grenada, Guadeloupe, Guam, Guatemala, Guinea, Guinea-bissau, Guyana, Haiti, Heard and Mc Donald Islands, Honduras, Hong Kong, India, Indonesia, Iran (Islamic Republic of), Iraq, Jamaica, Japan, Kenya, Kiribati, Democratic People's Republic of Korea, Republic of Korea, Kuwait,Kyrgyzstan,People's Democratic Republic Lao, Lebanon, Lesotho, Madagascar, Malawi, Malaysia, Maldives, Mali, Marshall Islands, Martinique, Mauritania, Mauritius, Mayotte, Mexico, Federated States of Micronesia, Mongolia, Montserrat, Mozambique, Myanmar, Namibia, Nauru, Nepal, Netherlands Antilles, New Caledonia, New Zealand, Nicaragua, Niger, Nigeria, Niue, Norfolk Island, Northern Mariana Islands, Oman, Pakistan, Palau, Palestinian Territory, Panama, Papua New Guinea, Paraguay, Peru, Philippines, Pitcairn, Puerto Rico, Qatar, Reunion, Rwanda, Saint Kitts and Nevis, Saint Lucia, Saint Vincent and the Grenadines, Samoa, Sao Tome and Principe, Saudi Arabia, Senegal, Seychelles, Sierra Leone, Singapore, Sint Maarten (French Antilles), Sint Maarten (Netherlands Antilles), Solomon IslandsSomalia, South Africa, South Georgia and the South Sandwich Islands, Sri Lanka, St. Barthelemy, St. Eustatius, St. Helena, St. Pierre and Miquelon, Sudan, Suriname, Svalbard and Jan Mayen Islands, Swaziland, Taiwan, Tajikistan, United Republic of Tanzania, Thailand, The Democratic Republic of Congo, Togo, Tokelau,Tonga, Trinidad and Tobago, Turkmenistan, Turks and Caicos Islands, Tuvalu, Uganda, United Arab Emirates, United States Minor Outlying Islands, Uruguay, Uzbekistan, Vanuatu, Venezuela, Viet Nam, Virgin Islands (British), Virgin Islands (U.S.), Wallis and Futuna Islands, Western Sahara, Yemen, Zambia, Zimbabwe | 49,99 € | 64,99 € | 104,99 € | 196,99 € |
Subsequent deliveries through our fault, of course free delivery.
We ship our products with a transport insurance up to 500.- Euro, (on demand we assure even higher) With rebreathers is the transport insurance up to 25.000 euros. For rebreather separate packaging and shipping costs are calculated.
Delivery time:
The delivery time is subject to availability of the product and select the desired payment method.
Available / stock items are normally dispatched the same day.
For payment in advance the shipment takes place in principle after the account credit (usually within 2 business days).
Please note that a bank transfer may take 2 to 3 business days. Through weekends and holidays, the term is extended accordingly.
If you pay cash on delivery ship your order normally on the same day.
Products are not immediately available or are expected soon to be shipped immediately after receipt of goods. Partial deliveries are made only on request.
With rebreathers or other items that differ from the standard design, the delivery time depends on the configuration and manufacturer.
Terms & Conditions
Contact
Dive Bandits
Falko Höltzer
Peter-Köferler-Str. 20
90584 Allersberg
Germany
Phone
Questions...? Please call us!
+49 9176 995105
Mon - Fri 17:00 - 19:00